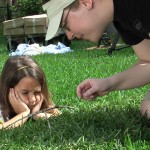 So where do you go to get a caterpillar on short notice? That was the challenge when producing one of a series of spots for sod company Bethel Farms. Depicting a family enjoying their lawn and the great outdoors one shot was of a curious little girl watching a live caterpillar. Cute idea. But we live in a state where importing bugs is difficult. Finding one in the wild proved a futile search. Then we remembered that the Museum of Since and Industry in Tampa (MOSI) has a butterfly exhibit. It only took one call and a quick trip the day before the shoot. We got two Monarch caterpillars and a milkweed plant to feed them. We were told that one was likely to be just two days from forming a chrysalis.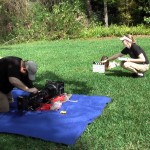 The day of the shoot, we didn't wait long to get the shot. Marina took on the role of caterpillar wrangler and gently moved our many legged friend onto a stick and kept the striped star in the shot when it crawled away. Using the RED ONE camera and a long lens at ground level produced an endearing shot of little Emma, the caterpillar and some of the lush hero grass.
The funniest part was when cameraman Rich Roddman was trying to keep little Emma interested after a few minutes of staring at the caterpillar. He asked her if she had a name for it. Not being a fan of bugs, she quickly replied "Ewe".