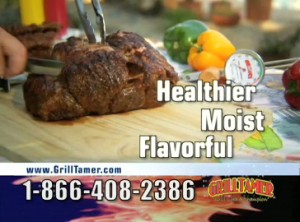 Tampa Bay could be considered the capital of direct response advertising. There have been many millions made by those selling products directly to consumers via TV spots. After all, we have nationally famous pitch men Anthony Sullivan and Kevin Herrington as well as HSN right here in our back yard. So it's only natural that we've done our fair share of infomercial productions over the years.
We've done just part of productions like providing RED ONE camera services, shot inserts on our green screen stage, done voiceover recording, audio and video post-production or finished complete productions from concept through delivery like this example for  a new gas grill accessory that eliminates food burning flare-ups.
So call and tell us about your sheet plastics. Operators are standing by.