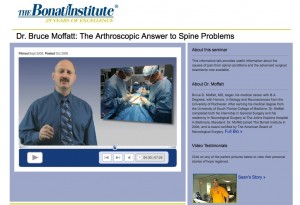 The Bonati Institute found that potential patients wanted information about the advanced spinal treatments they offer, but there were not enough opportunities for the live seminars they conduct around the country. Plus it demanded a lot of the doctor's time. Online seminars offered them time and cost savings. In addition they could reach more people.
We shot the HD video on our green screen stage and edited the project to insert graphic and video elements. The final production contains the same information that is presented in live seminars. We then created a mini-site that is contained within the Bonati site. It provides playback of this video with advanced chapter capability so the viewer can advance to specific points of interest. The rest of the mini-site contains text information and other patient videos.
The end result is more potential patients are reached, while the doctors spend more time in the operating room and less time in a hotel room.