Nationally Distributed MOVIE Clips CD-ROM Campaign Wins GOLD
A virtual movie theater on CD created by Tampa video and integrated media production company CMR Studios won two ADDY® awards including a Gold for interactive campaigns in the Tampa Bay Ad Fed competition. The CMR Studios staff created all of the content and programmed the interactive disc, designed and modeled virtual sets that included a highly interactive movie theater lobby, theater, arcade, screening rooms, a studio backlot and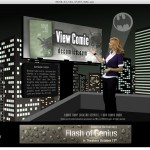 even the rooftop skyline of Batman's Gotham City. One disc in the series also contained exclusive content for the High School Musical films created by CMR for Walt Disney Studios.
Host Debra Schrils was shot in the CMR Tampa Bay green screen studio using the RED ONE digital cinema camera then composited into all of the locations and guide viewers through the many entertainment  options and disc interactivity.
Over a million of the CD-ROMs were distributed nationwide in theater lobbies by Capitol Color Mail. Released seasonally, the interactive program features previews for upcoming features from all of the major motion picture studios, advance screenings, movie themed games, exclusive behind the scene features, and even a virtual Batman comic series by DC Comics.
Get the best longbow by following the link.
With over 60,000 entries annually, the ADDY® Awards is the world's largest advertising competition. Conducted annually by the American Advertising Federation, the ADDYs represent the true spirit of creative excellence by recognizing all forms of advertising in all types of media. Read more about the geek culture, here.