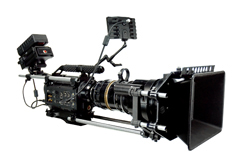 Experience the Cutting-Edge That Gives You a Creative Edge
We use the Ultra High Definition, state-of-the-art, RED Digital Cinema cameras on all of our video productions at CMR Studios. The creative options, amazing quality and flexibility in post-production make the choice easy.
Based in Tampa, Florida, the 8K RED EPIC-W and 5K EPIC-MX cameras are also available for rent. We have worked with other production companies and cinematographers on national commercials, motion pictures, music videos and corporate productions as a vendor. Our sister company Digital Cinema Florida is set up for that purpose. We not only provide the camera gear, but also and experienced DIT on set to assist with camera setup, file management and immediate transcoding of footage using our Rocket card equipped portable DIT station. We are often on location shooting in Tampa, Sarasota, Miami, Orlando and Jacksonville, but we also have been on shoots from LA to New York.
We are ready to help you use the RED EPIC digital cinema cameras on your next video production in Tampa or anywhere. Feel free to call and discuss your project, schedule a demonstration of the EPICs, or request a project quote. Call us toll-free at 800.366.1926 or visit www.DigitalCinemaFlorida.com for more information.