Put on-camera talent in any location for TV commercials and videos, shoot special effects or add a virtual spokesperson to your website on our in-house shooting stage.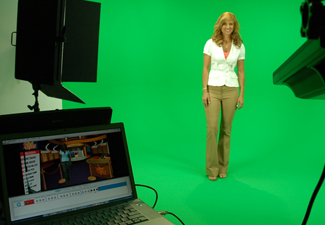 This is not just a green cloth backdrop or a flat wall painted green. Our 14ft x 12ft hard-corner cyclorama gives you the visual shooting space of a much larger green screen background. With a seamless cove and solid green floor area you can shoot head to toe, full-body shots. We most frequently use green screen magic to composite talent on background video or photos and into a virtual set, as seen here in a shot from our ADDY award winning MOVIE Clips series. Shooting in Ultra HD with the 8K RED EPIC-W  or 5K EPIC-MX camera allows for keying in the highest quality possible.
It takes more than just a green space to make green screen video work. It takes good balanced background lighting and key lights. Our studio includes cool, color corrected, high intensity florescent studio lighting that gets great reviews like this one from Chris McDonough from Scorpion Design in LA who has come to town and rented our space multiple times. After I got back to LA and started editing the video I shot at CMR I noticed that the lighting was markedly better than anywhere else I shot. (which was 4 other studios in Florida)."
In addition, we can also paint the cyc for a seamless white backdrop or create various color-lit cloth backdrops depending on the style needs of your project.
You have convenience and flexibility in a quiet, comfortable space that includes lighting. Teleprompter services are also available to make long scripts a breeze for talent. Most importantly, you're right down the hall from our HD post production and audio suites. All you need is right here under one roof.
The CMR Studios green screen is available on an hourly basis with or without camera and crew.