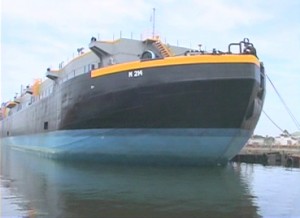 8 Months in 5 Minutes
This is our longest single location shoot to date. We shot footage over an eight month period at the Port of Tampa to capture this unique detailed look at shipbuilding.
Over an eight month construction and shooting schedule we captured all the milestone events to detail the patented process used by this multi-national company. First they cut the ship in half to add an entire section in the middle. Then the ship was dissected to remove the deck and structures underneath. A new second hull was added to create an inner liner to hold crude oil. Then the deck section previously removed was put back in place. We shot simultaneous time-lapse with multiple camera positions. On location several days a week we also shot in all areas of the ship including being in the bilge when massive sections were set on top of us. The images had to tell the story. There is no narration so the video could be used internationally without translations. Our work was awarded two ADDY awards for cinematography.